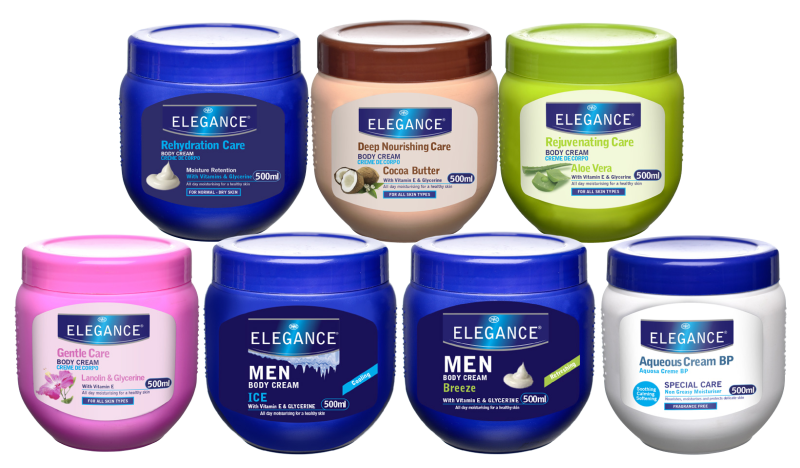 Elegance body creams comes in several different varieties and on pack sizes of 300ml and a family size 500ml. The five Elegance body cream variants are namely Cocoa Butter which comes in a beige jar and brown cap, Lanolin and Glycerine in a pink container, Aloe Vera packed in a light green container whilst Rehydration care and Aqueous cream BP are packed in a blue and white containers respectively. It is important to note that all the Elegance body cream variants are Vitamin E fortified and carefully formulated to give you a brilliant and even skin tone by moisturising and protecting the skin against the effects of harmful ultra-violet rays.
Elegance Rehydration Care Body Cream
Elegance rehydration Care Body cream is specially formulated to address counter the effects of acute skin dryness. It contains natural lipids that are excellent for softening, moisturising and skin conditioning. Elegance rehydration care body cream offers an excellent moisture retention capacity for your skin.
Elegance Cocoa Butter Body Cream
Elegance Cocoa Butter Deep Nourishing Care Body Cream has the conditioning therapeutic effect of Cocoa Extract in addition to the nourishing and moisturising benefit of both Vitamin E and Glycerine. With added cocoa extract (theobroma Cocoa) which is odourless, non-greasy, non-staining oil that helps carry therapeutic oils under the skin. It contains the medium-chain triglycerides and is a good choice for face creams that need lighter oil. Cocoa butter is widely noted to help reduce stretch marks. And many women claimed regular use of cocoa butter was what kept their stretch marks away. Cocoa butter is high in fatty acids and hydrates the skin deeply and it has been noted to help skin irritations such as eczema and dermatitis.
Elegance Aloe Vera Body Cream
Elegance Aloe Vera Rejuvenating Care body cream is a rich nourishing and moisturising cream that guaranties the smoothness and suppleness of your tender skin. It is specially formulated from a blend of Aloe Vera extracts and Vitamins E, A and C minerals that work synergistically to maintain a healthy and adorable skin tone. Aloe Vera juice imparts a distinct fresh and cooling effect while also rejuvenating and soothing the skin. Elegance Aloe Vera Body cream is filled with a plethora of Aloe Vera skin benefits, such as anti-bacterial, anti-viral, and anti-inflammatory, giving it soothing and moisturizing properties that defend against harmful toxins that can destroy the delicate skin Aloe Vera helps to clear up acne, reduce facial scarring, and bring relief to red, irritated skin. It is useful for healing minor cuts, scrapes, and skin abrasions on the face.
Elegance Lanolin and Glycerine Body Cream
Elegance Lanolin and Glycerine Gentle Care Body cream guarantees an all day moisturising effect for a healthy skin. Lanolin and Glycerine Body cream is formulated with a strong moisturising system of lanolin and glycerine, an occlusive emollient and a humectant that helps to maintain a perfect skin moisture balance in
varied atmospheric conditions. Elegance Lanolin and Glycerine is Vitamin E fortified and thus possess all the protective and nourishing benefits of Vitamin E.
Elegance Aqueous Cream BP
Elegance Special Care Aqueous cream BP is a light moisturizer that is made up of an emulsifying ointment mixture containing paraffin oils and water, with Chlorocresol as an antimicrobial preservative. This is mostly used as a substitute of soap. Aqueous
Cream provides a layer of oil on the surface of the skin preventing moisture evaporating from the skin surface. The intense moisturizing effect of Elegance Aqueous cream BP greatly helps in the treatment of skin ailments like eczema and
dermatitis. Health experts recommend the application of an aqueous cream directly after a shower or bath. This action helps to seal the moisture in the skin.